Posted on
By Kristina Ikavalko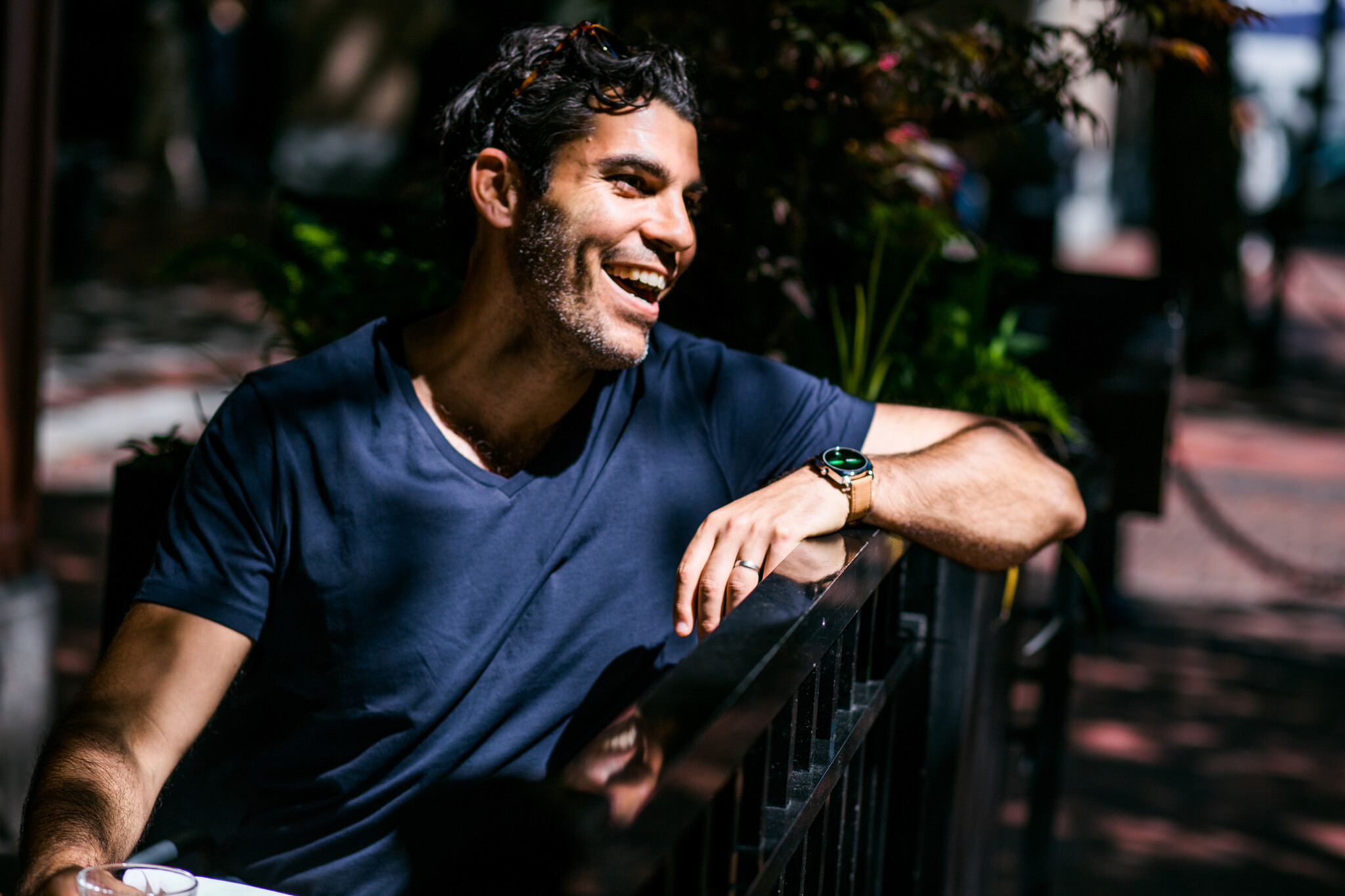 Your guide to styling the essential t-shirt collection.
Ask most anyone what their go-to casual wear staples are and a vast majority will mention t-shirts near the top of that list. No buttons, soft, and seamless, the t-shirt is easy and comfortable.  Really, no wardrobe is complete without a decent collection of great tees. They are a key foundation piece that can transition effortlessly from weekends to the office and from day, to night.  
As workplaces loosen their dress codes, the tee, dressed up can be perfectly suited to most office environments, especially those in the creative or tech spaces.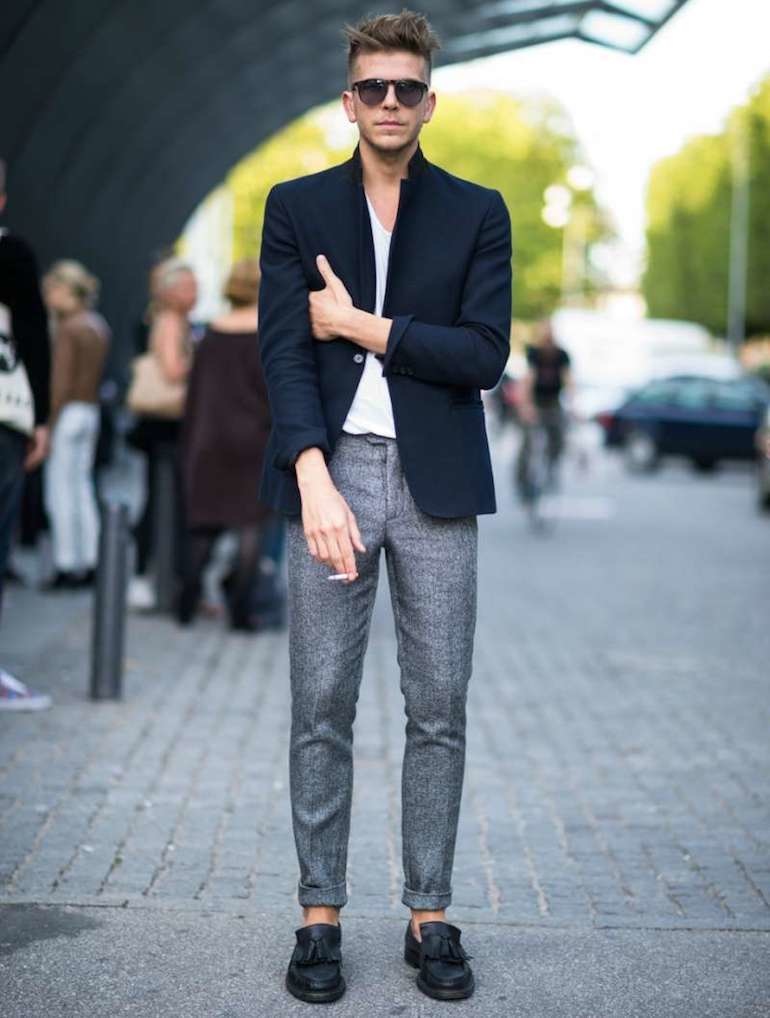 Here are 5 easy ways to ensure your fave T-shirt can convey professionalism and confidence:
1. Choose a solid colour t-shirt or one with a smaller, subtle pattern. This is less distracting and more polished. Although we love a graphic tee, choosing one that is suitable for the office can be tricky. Consider a classic handmade T-shirt of premium quality cotton from Sunspel or Samsøe & Samsøe.
2. Wear one that fits! We can't emphasize this enough. Leave the XXLs for the young kids. Ideally, the perfect fitting t-shirt should sit comfortably along your shoulders, not too tightly in the armpits or across the chest. The seams should never be strained. It cheapens the look. It should be no longer than the top of your thigh, just below your hips. This way, when tucked in, your look will still be slim and smooth. Remember, DON'T oversize to conceal bumps or undersize to show off your commitment to the gym. Right-sizing is key to elegant t-shirt dressing.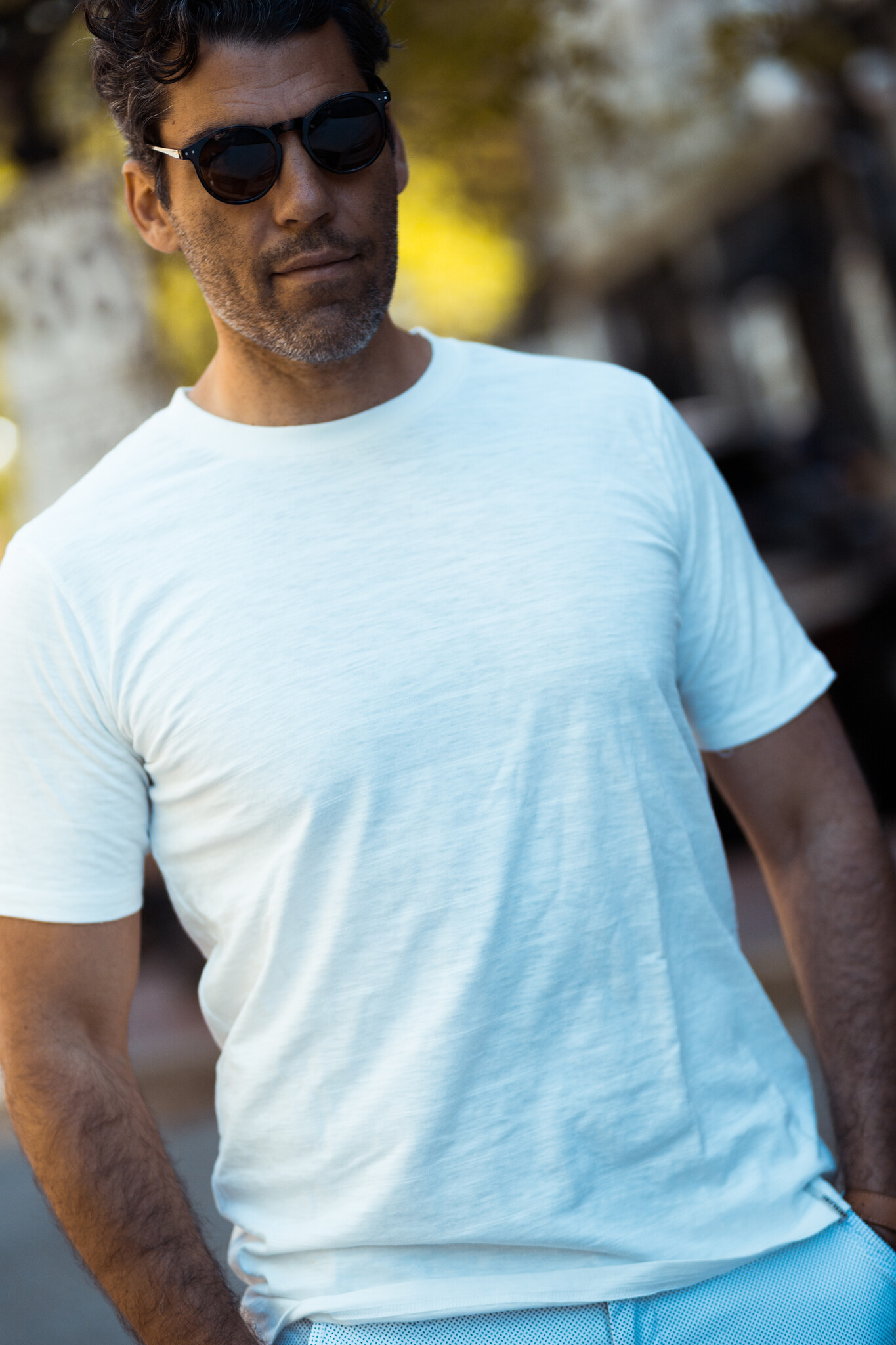 3. Consider a cover. Pair it with a merino cardigan or a casual blazer for an elegant, European look or cool professor vibe. We love the elegance and comfort of a cardigan blazer.  LBM 1911's  cardigan blazer is a great hybrid, giving you the ease of a cardigan with the more elegant sartorial detail of a blazer - perfect for a casual Friday look. 
4. Choose a crisp chino or good fitting denim. Consider showing off a little ankle, rolling a cuff or ensuring your pants are hemmed properly (not too long!). The Blue Industry chino is slim fit, with blue piping on the inner pant to facilitate a cuffed look. 
5. Accessorize thoughtfully. Your look will be complete once the right shoe and right belt are chosen. A clean white sneaker like the Koio Capri Triple White or the tan, Koio Capri Castagna are excellent choices or the dressier Cheaney Cambridge Dark Leaf
For our money we can't get enough of Copenhagen's Samsøe & Samsøe's tees. Founded in 1993 by brothers Klause and Preben Samsøe, this quintessentially Scandinavian brand initially produced only jewellery but slowly expanded to premium tees and ultimately into the international fashion house it is today, creating some of the most elegant yet always utilitarian clothes and accessories for the modern man (and woman).   Their premium tees are made of the finest, Egyptian cotton, and come in a contemporary range of long and short-sleeved styles and a variety of colours.
Ultimately, the t-shirt is the most versatile wardrobe staple you have. It can underpin pretty much any look. Classed up under a suit jacket or cardigan for work or on its own for anywhere else. There are endless t-shirt options to choose from but once you find a brand that works for you, washes well and feels just right, we recommend you stock up! Choose some timeless shades – black, white, grey and navy – and you'll have the perfect foundation for any wardrobe.